This post brought to you by
Atlantic Luggage
. The content and opinions expressed below are that of Fashion For Real People.
ATLANTIC LUGGAGE SWEEPSTAKES (Read this post on how to win a trip for your whole family):
Enter to win a family trip
When I was just 6 months old I was on a plane from Italy to Jamaica where I lived for few years on and off. My brother at 20 days old was flying from Jordan where he was born to Italy. So it seems natural that I would be planning a trip to Italy with my new baby between age 6-10 months.
I am already planning where I would go (Paris, Athens and Sicily) and how I will pack. I would say the second part is more important for new moms because we all have seen the dreadfully and horrific picture of family dragging their entire house with them when traveling with kids. I have seen in with friends and family who came visit us in Florida - you can't see from the windows of their cars because it is packed with diapers, suitcases, hello kitty blankets, pillows, floaty objects, and pink toys that I have not idea existed before. I have seen parents at airports with backbags that are nothing compared to young hippies that travel Europe just with their backbag and sleeping bag. Move apart young and free spirit college students because traveling parents are tough and in need of a better traveling system.
I don't want to be that parent (I say this with hope). I hate traveling heavy. I always travel with one bag. I actually end up traveling so light that I have to buy clothes wherever I go to. When I lived in Europe I came with one suitcase and a carry on. I was there for 6 months and did not wear half of what I brought because it was packed with Florida clothes and well Europe was just so cold....
Anyway, now that I am a mom, I need to be a little more conscious of what to pack and how. So I started looking at suitcases that are durable and have multiple functions. For example Kohl's sell
Atlantic Luggage
, which offers a variety of innovative ways to travel in comfort. One of their cool features, the Link2Go system, allows you to connect multiple pieces of luggage for easy one handed rolling. I think this can come handy when you need to have many bags (one for the baby, one for the parents, one for diapers or emergency baby items, etc). If you can't just travel with one bag make sure the system you buy is easy to use and won't require heavy lifting or you will be that parent who runs to catch a flight while his/her entire bags are falling everywhere in the airport.
The best invention ever for any bags (and I actually have this carry-on when I travel for business too) is the 360-degree-4-wheel spinner, which allows for easy guiding and steering through busy terminals. What does it mean? Have you ever had one of those carry-ons with wheels and you got stuck trying to orient the wheels in the direction you are walking and you found yourself punching your carry-on bag and sweating from the frustration? Well, you don't have to be that person anymore. Get yourself an Atlantic Luggage 360 bag. You will thank me later for two reasons: 1. you can give the carry on to your children because it's that easy to maneuver and it is lightweight; and 2. you won't fight with your luggage anymore when you are about to lose your flight.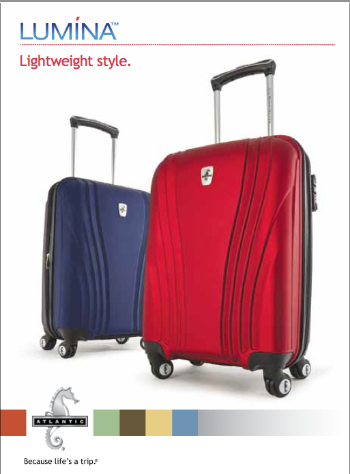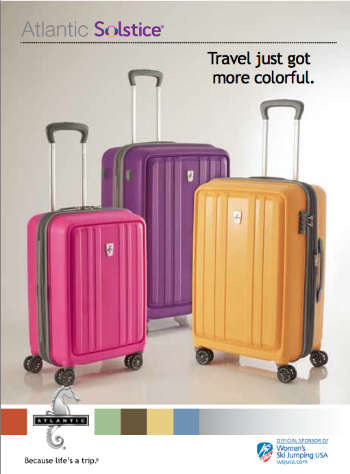 Now that you have chosen your luggage and your destination (whether it is in your state or abroad) here few tips for traveling lightweight with your family without having to leave your kids at home. :)
HOW TO EFFICIENTLY PACK:
1. Buy those plastic bags that suck the air out so you will have more room in your suitcase. Be aware that you have a limit weight for baggage if you fly. With Delta is about 50 pounds or 23KG. I won't talk today about the option to send an extra baggage and fees, but you should definitely consider it. I do it when I return from Italy and had bought all kind of goodies. You can also ship and sometimes that is cheaper that adding an extra luggage to your trip via plane.
2. Put your sucks inside your shoes to save space.
3. You don't need to put in your suitcase an entire bottle of shampoo, conditioner, etc. I usually just carry sample products for skincare (from face lotions, to mascara, to shampoo, etc.) and then buy a big bottle of shampoo or conditioner when I get to destination and I leave them there. Think about it. It is cheaper to buy big items versus smaller or traveler format. What I do is that I either put some shampoo in traveling containers or I just use sample sizes that were given to me free. Then I get to destination and go to a CVS pharmacy to buy a regular size. It is worth my time, space, and money.
4. Your carry on should have a lot of pockets and have easy access for emergency items for your children. Your documents should be in the front pocket or at least a pocket easy to reach. You should only have documents. Do not start adding items. Next to it I like to have my cell phones or ipads (electronics). Big important items like diapers will be placed inside the bag. Because I like containers and bags within bags I use my custom-made zipper bags to place items within my carry on bag. So, all my diapers will be in one place, pacifier and small items for the baby will be all in one bag, and so on. I am a lover of shoulder bags, like the Atlantic Ultra Lite 2 shoulder bag. I either carry it on my shoulder using the straps or I just place it on top of the 360 wheels carry on so I only drag one luggage through the airport. For me it's much easier to organize and access items is I use the shoulder bag. I don't know I just don't like the idea of taking the traditional carry on with wheels and set it on the floor and unzip it all the way and start digging in for items. Remember if you have an emergency like a blow out, you need to act fast. And I feel I can only do that with a shoulder bag.
Those are just few tips I found very helpful as I have been traveling both with my family and myself through the many years. If you are looking to try any of these tips Atlantic Luggage is currently running an amazing sweepstakes where you have the opportunity to win a family trip for four to your choice of New York or San Diego! To register for your chance to win a trip for the whole family visit their site at
http://www.atlanticluggage.com/fall-sweepstakes-2014/
.
How To Enter and Details:
Go to the included link and fill out the sweepstakes form.
Sweepstakes runs October 15 through November 15
Winner will be chosen within 7-10 days following the close of the sweepstakes.
Grand Prize trip must be booked by 9/30/15 and travel must be completed by 10/31/15.
Prizes and rules:
Win a family trip for four to New York or San Diego, courtesy of Atlantic Luggage and Delta Vacations!
Grand Prize package trip certificate is valid for: (a) round-trip economy air transportation valued at up to $450 per ticket for the Grand Prize winner and three (3) guests from a major U.S. airport serviced by Delta Air Lines near to the Grand Prize winner's home (as determined by Sponsor), to a major U.S. airport serviced by Delta Air Lines near New York City or San Diego, CA (as chosen by winner and determined by Sponsor); (b) hotel accommodations at a participating Delta Vacations hotel in New York City or San Diego, C; (c) four (4) Atlantic® carry-on sized suitcases; and (d) $300 allowance to spend on their choice of Delta Vacations Tour or Activity packages.
Trip is to last three days and two nights
Total prize value of $3,700
Here my entry - Now I really want to win since I have not been to New York since 2001 and I have never been to San Diego.